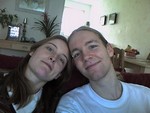 Abonnement
FOK!free abonnement
Geregistreerd
16-03-2004
Laatste update
13-12-2005
Geslacht
Vrouw
Geboortedatum
13-01-1984
Relatie
Ja :)
Seksualiteit
Kleur ogen
bl/gr
Schoenmaat
0
Beroep
Studierichting
Pabo
Woonplaats
Favo forum
geen
Favo FOK!kers
ken er maar 1 Lauwtje! hehe
Favo subsite
geen
Aantal forumposts
60 »
Aantal FP-reacties
9 »
Aantal views
543
Aantal reacties
4
Laatste voyeur(s)
Scorp.AM
dude232
Peter
FiveseveN
Scorp.AM

Hello

wow m'n eigen Fok plekkie...leuk hoor
Wie ik ben staat hierboven al zo'n beetje, maar iets van favoriete muziek mist nog, dus bij deze:

Music: Brant Bjork, Led Zeppelin, Jimi Hendrix, Kyuss, Eagles of death metal, CSNY, The Eagles, Queens of the stone age, Foo fighters, Supergrass, Placebo, Incubus, Mondo generator, Nirvana, Muse, Slo Burn, The Datsuns, The von Bondies, Sparta, The Thrills, The Hives, The Vines, The Coral, Metallica, Rage against the machine, Red hot chilli peppers, Nebula, John Frusciante, Jet, Lostprophets, Kings of Leon, Coldplay, Green Lizard, Mars Volta, Fugazi, Auf der Maur, Nebula, Dozer, Unida en local scene bandjes
SUPPORT THE LOCAL SCENE!! hehe en meer heavy gitaargeweld.

Rock On!!



1