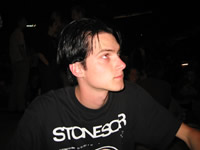 Abonnement
FOK!free abonnement
Geregistreerd
23-06-2002
Laatste update
16-06-2007
Geslacht
Man
Geboortedatum
25-03-1985
Relatie
Neen.
Seksualiteit
Kleur ogen
Blauw
Schoenmaat
Beroep
Interface designer
Studierichting
CMD / Communicatiewetenschap
Woonplaats
Gouda
Favo forum
Muziek
Favo FOK!kers
Favo subsite
FOK!forum
Aantal forumposts
1.669 »
Aantal FP-reacties
71 »
Aantal views
997
Aantal reacties
39
Laatste voyeur(s)
C.L.Werner
C.L.Werner
Charlotte3
Peter
aspirantspierbundel

Wat muziekjes uit mn collectie.
10years, 36 Crazyfists, A Perfect Circle, Abyssal Plains, Aereogramma, Air, Alter Bridge, Âme, American Head Charge, Amon Tobin, Amplifier, Aphex Twin, Audio Bullys, Autechre, Beastie Boys, Beck, Biosphere, Björk, Black Light Burns, Black Sun Empire, Blindside, Bloc Party, Boards Of Canada, Bonobo, Botch, Bush, Callisto, Carbon Based Lifeforms, Chemical Brothers, Corncord Dawn, CSS, Cult Of Luna, Daft Punk, Deftones, Devin Townsend, DJ Krush, DJ Shadow, Dredg, Earthtone9, Elvis, Envious, Fantomas, Fear Factory, Feeder, Filter, Finch, Foo Fighters, Future Sound Of London, God Is An Astronaut, Godspeed You Black Emperor!, Gojira, Hellyeah, If These Trees Could Talk, Incubus, ISIS, John Mayer, José González, Junkie XL, Keane, Keelhaul, Khoma, Kidneythieves, KoRn, Lamb Of God, Lamb, Laurent Garnier, LCD Soundsystem, Massive Attack, Mastodon, Meshuggah, Metallica, Michael Jackson, Minus The Bear, Mudvayne, My Vitriol, Neurosis, NIN, Oceansize, Pelican, Placebo, Portishead, Prodigy, Proppelerheads, Radiohead, RHCP, Red Sparowes, Röyksopp, Saybia, Sengaia, Sigur Rós, Sinch, Squarepusher, Taproot, Team Sleep, Tesa, Textures, the Dillinger Escape Plan, the Mars Volta, the Ocean, Tool, Ulver, Underworld, Vex Red, Will Haven, Zero7
Paar filmpjes uit mn collectie.
Pulp Fiction, Resevoir Dogs, Kill Bill, Fight Club, The Matrix, se7en, Lord of the Rings, Fear and loathing in Las Vegas, James Bond, The Departed, etc.
Verder geinteresseerd in filosofie en sprituele dingen..tot op zekere hoogte weliswaar

Em..hou wel van festivals en concerten. Speel gitaar in een band genaamd
Envious
.



1