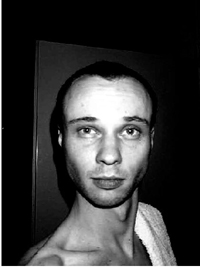 Abonnement
FOK!free abonnement
Geregistreerd
20-03-2003
Laatste update
29-04-2003
Geslacht
Man
Geboortedatum
06-07-1971
Relatie
Seksualiteit
Kleur ogen
Schoenmaat
Beroep
020 meer 313 leren
Studierichting
ruis
Woonplaats
Favo forum
geen
Favo FOK!kers
Favo subsite
geen
Aantal forumposts
115 »
Aantal FP-reacties
0 »
Aantal views
931
Aantal reacties
7
Laatste voyeur(s)
banapples
Anonieme_Fokker

thenewworldaquarian

Subject: De:bug vs de 154
Date: Mon, 09 Oct 2000 17:47:43 GMT

questions:Sasha Bleed(De:bug magazine)
answers: 154

what has become of the hiphop 86 kid and mc ? are there still traces of that?
Fresh '86 is still a big part of who I am, my life seems 2 b build upon those foundations. But when u grow up slowly things take shape and seem to get more detailed, life becomes your life instead of the world u try to survive in. Or stand up to. Without losing intensity I try to live more, fight less. Somewhere along the line every struggle seems 2 get sour, and it takes away the strength you need to create. That seems to b my goal in life, I cannot think of a better way to show my respect to that and those that surround me. It's a beautifull life and it took me too damn long to realize that.
I'm not dissing the '86 mentality, or rather my '86 mentality, but now I also understand the '70 or '80s spirit, and hopefully that 2k thing. Listening to music has changed from an acknowledgement of who I am into a way of becoming the best that I can B.

what happened after 86, musically and otherwise?
I guess all I can say to that is H.O.U.S.E. That covers it pretty much, for most of us anyway. Techno was deepening, just like Acid, Deephouse. More shades of life as we know it. Individuality, the dance(breakdance never was my strong point), open-mindedness, a music strictly aimed at exploration of the soul and rhythm of life. It was no longer purely about pride and rage. The fury became an intricate network of rhythm and melody, not aimed at something or someone but more like an explainatory force. And more introvert, somewhere along the line the community feel of hiphop became replaced by the whole exploration of self thing. The glorification of the fact that technology had set us free of the simple system of survival. And for me it was a way of finding a life of my own, on my own 2 feet. Toffler brought litle enlightenment to the world of the Dutch '80s, I'd rather give the Belleville three that credit.

have you always been in amsterdam? if not where else?
I'm originally from Haarlem, 20 km's from A*dam.

and what did you do apart from music?
Not much, im afraid.

there is a very strong link to urban life in newworldaquarium, i think i can hear it, but do i really. no idea? so. what is this link, the one between music and urbanism, the city and the sound?
newworldaquarium is about that complicate thing called chance. The beauty of life, people and the things they read into it. The city seems the best example of that. people acting upon their fate.

where do these imagerys link and how?
do they come together on a level that is closer to architecture, or more an something like a feel of the city in everyday life..?
Definitely everyday life. Architecture is a part of that but its people that interest me most.

where does the music sound like the city you live in, and how does it mabe influce each other?
It's difficult to say where your mind stops and reality begins, but music seems to be a lot about movement, or the space things move in. I feel that trying to obtain a realistic mix, that is to make your sound as natural as possible is more about the visual aspects of your own thoughts than that it brings your music down to earth. It's more about the way u experience the space u live in than a replication of the one u r in. A lot of my tracks are about the way people move, the way they walk, dance or make love. Non-verbal communication, so to speak. That's as concrete as I can get I'm afraid.

is there a politics in any of these?
perhaps

what kind of role does the night play in that?
The night takes away the visual, makes u more "musical" in your view of the world. Like filling in the gaps.

do you like being compared with, or seen in relation to somebody like drexciya? if so, how, why? would you agree on links? which?
I cannot think of a better compliment than to be compared to some of the most original music of the last 10 years. Their vision is one that has inspired most of us, its good to seem them back in business again.

What is the music you feel indebted to, which history of music?
Some names. Sherard Ingram is one name that should be mentioned a lot more often. Covert Action is one of the tracks that has defined the boundaries of my music. The same goes for Carl Craig, Bfc was like a revelation. Mike Banks, of course, Robert Hood. The Belleville three. Twoplayer has a list on their site(september) but I can make another one every day. Goldie. Spinna. The Ummah. KDJ. Theo Parrish. Mark&Dego. The Bristol crew. Weldon Irvine. Terence Dixon. Von Oswaldt. Do I need to go on? Lord Finesse. John Coltrane. Gill Scott-Heron. Steve Reich. Alan Moulder. David Bowie. Mutabaruka. Scott La Rock. Fab 5. Fuckin soul music!

what visions have been left over, and where does your music take on what was left or where does it begin from somewhere else alltogether?
Soon

does newworldaquarium actually do shows? what kind of, if there are any, and why not if there are none?
I just play rekkidsdon't know bout the rest though.

is releasing on delsin part of a friendship as well?
Delsin is like blood.

what does house, disco, technology, the net mean to you?
Mo people, mo luvvin'

what would be the perfect setting for your music?
The future I hope.

....nearly forgot.....discography? forthcoming things?


out now

newworldaquarium-Heavy metal(Peacefrog)
Aroy Dee-The planet/Kiss(nwaq) as exec. prod.

soon

newworldaquarium-Trespassers/NY(Planet-e)
154-Strike(Delsin/?)
Kirk Degiorgio-Holy(New Religion) nwaq rmx

not so soon

Newworldaquarium-Stale monkey(Peacefrog) album
Pallas-? (m>o>s rec. 02)


"The magical, the mystical"



1